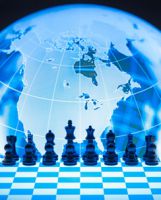 Trevor Findlay's Canadian Centre for Treaty Compliance has just released a report on Nuclear Futures which makes for excellent reading. In the report, there is a brief paragraph on information driven safeguards.
The Agency claims it is pursuing what it describes as "information driven" (IAEA, 2007b: 16) safeguards, supported by a modern "knowledge management system" (including a database that records the experiences of all safeguards inspectors). However, there remain concerns that the IAEA inspectorate's "culture" has still not entirely changed from one of examining a narrow range of information to one that considers each individual state's activities holistically. Further concerns have been expressed about the lack of transparency and openness within the Agency that permits vital information about state compliance to be too tightly held within certain offices, thereby defeating the purpose of the holistic approach (ICNND, 2009: 91-92)
Beyond doubt, the last few decades have seen a transformation of the safeguards business. Until about 20 years ago, the International Atomic Energy Agency only corroborated states' nuclear material on declared nuclear sites. They did this through measurements and observations. They quantified the nuclear material, they counted fuel rods, and inspectors even watched how materials flowed through the plants themselves.
The inspectors of the 1970s and 1980s realized the limits of the system they enforced. It doesn't take much to figure out that the easiest way to defeat safeguards is to bypass them. All proliferative states have had to figure out how to deal with one form or another of safeguards on their territories.
Most states seeking to develop nuclear weapons have found that it is best to conduct forbidden activities well away from the prying eyes of the international inspectorate. Iraq's strategists, for instance, only felt that they could divert its HEU at Tuwaitha after IAEA inspectors had been expelled. And Sweden's cold warriors felt that they could only convert the R-3/Adam reactor to military use once it had been purged of safeguarded heavy water. Even the most primitive IAEA safeguards works as an 'area denial' tool and this is a benefit not to frown on.
In the last two decades, the IAEA has faced ever increasing expectations on what it is able to deliver. Many expect the organization to become nuclear detectives where it has once been nuclear accountants. This is by no means a bad idea, as some have suggested.
The IAEA has moved rapidly towards a system of state-level evaluations. This regime itself is indistinct, and descriptions of it are coached in management language such as "information driven" and "knowledge management system".
In a nutshell, the IAEA has started to use the large information flow given to it by the Additional Protocol and other knowledge sources to its advantage by feeding it into analytical tools such as the physical model (see one description here). The IAEA has also, over the years, started to realize the power of open source information and satellite imagery analysis. One plan is to feed all this information into a central repository which, well, looks a bit like an internal Wikipedia. I have seen the demo, and it is impressive.
All of this may give the folks in Vienna the potential to describe and understand the entirety of the country's fuel cycle. Once they are allowed to do that, it will become increasingly difficult to hide away a parallel fuel cycle. But reform does need a change in attitude within the IAEA. Some serving or former safeguards inspectors still like to point out how slowly the organization has changed, and how much work remains to be done.
Be that as it may, the most important thing is that work has started.